Walking holidays in France, Family walking tour with a donkey
Duration : 6 days, 6 nights. Can be adapted on a shorter or longer version on request.

Family friendly Trek : Self guided tour without a guide with children aged 5 and above. Contact us so that we can build a tailor-made circuit together, adapted to your expectations
Luggage Transport: by your own personal donkey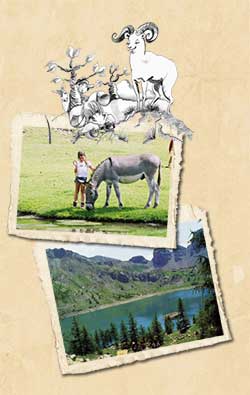 Lodging: Ecolodge,auberge , gites, & mountain refuge :
-Full board accommodation : this includes 1 night in an ecologe or a yurt, 1 night in auberge ( inn), 1 night in « gîtes» or in an hotel, and 2 nights in a mountain refuge. Each lodging is comfortable and clean, and will provide your breakfast, picnic lunch and a well-deserved dinner.
The rooms consist of family rooms of 4-6 persons. Showers are available.
You can request 'option individual rooms' when booking.( sup 70 euros/person)
Trek departure : Villeplane. Every day according to availability from 01/06/2023 to 20/09/2023.
Minimum knowledge : The easy options throughout this trek enable you to enjoy a week of relaxed walking where the children can be involved; the itinerary has been planned for families with children aged 5 and up.
The walking time per day varies between 3 – 6 hours, and the ascent levels between 350 m – 600 m.
Price 2023: Adult 680 €; Children 580 € between 5 to.12 years old.
Climate: due to the proximity of the Mediterranean Sea, the weather is warm and sunny, ideal for summer hiking. .
Don't trek with your head in the clouds!
The three don'ts of mountain trekking
You gain so much more from a trek when your eyes and ears are tuned into the music of the trail. We propose unseen, unprecedented circuits, created by our guides who are specialised in the conception of mountain trekking itineraries. They are rich with knowledge of the area they have doted on for 20 years and impatient to pass on the experience.
Don't be an ass, just because nature sounds like culture! It is easy on a trek to be so caught up with the nature surrounding us, that we miss the historic culture right before our eyes. You will set off on your trek with a detailed IGN map, leaflets edited by the Mercantour National Park, and a leafy booklet of information we have created, to pass on our vast experience of the nature, history and wonders of the region. Here's a glimpse of what is awaiting you…
The flora is rich with Orchids, and endemics (species found nowhere else)
The fauna: The region is home to specific mountain animals, from the wolf to the marmot, and encounters with ibex, chamois and the magnificent golden eagle. The geology is spectacular in this area: from the deep red pélites dating back to the end of the primary period to the sandstone of Annot from the tertiary period, and numerous intriguing fossil sites in between.
Don't return home without having met the mountain folk You will be in an undiscovered land, which remains a little secret for the tourist industry, where you will spend an entire day walking without meeting a single person. The welcome you will receive each evening from the old and new people of the valley will therefore add to the pleasure of trekking, one of the discovery of stong characters and genuine encounters with the inhabitants of our mountains. Guides, hosts, farmers, all those who are part of our web, do not live here by chance, nor by resignation. For each one of us, this is a choice of living free in an unspoilt nature. Leisurely afoot, or with the donkeys we nurture, its part of the soul of our land that you will share, and a large breath of freedom that you will take back home with you.
Don't come expecting jacuzzi, breakfast in bed & automated toilet seats
The places you will refuel and rest your head at night offer a taste for diversity, from being welcomed as homestay guests, to farms, rest houses, forester's shelters and small hotels. Don't come expecting the norms of a cold, sterilised hotel with all your basic needs. Often, it is simplistic comfort which fulfills the very image of astounding wilderness and creates the charm and adventure of your stay. If, for a week of alternative vacationing, you are able to adapt and to keep an open spirit, you will share heart-warming moments with real, full-of-life people around a well-garnished table.