Self guided tour in the mercantour
DURATION: 6 days, 5 Nights. Can be adapted on a shorter or longer version on request.
Ideal for Mountain adventurers or able beginners (easy – challenging option)
Extra-night: Ecogîte de Villepllane on request at the booking.
PRICE 2023 : Adult (option gîte) : 680 € (sup 70 € option individual rooms) Children aged 5 – 12 : 580 € (sup 70 € option individual rooms)
LUGGAGE TRANSPORT: by car
LOCATION: Mercantour national park, South of France, 100 km north of Nice
HOLIDAY TYPE: Self guided, moderate / strenuous walking holidays. Return journey in minibus.
TREK DEPARTURE: Villeplane. Every day according to availability from 01/06/2023 to 25/09/2023.
TREK ARRIVAL: Estenc, 50km / one hour by car from Villeplane, where we will pick you up with our bus.
LEVEL: We have planned this walk so as to offer each day a choice of several routes to the same lodging place, easy or difficult..
PATH CONDITIONS Very well signposted and marked.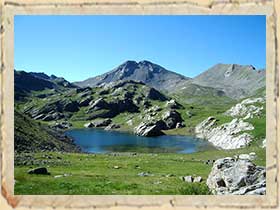 Full board accommodation :
This includes 1 night in ecolodge,1 night in auberge ( inn), 1 in an hotel, and 2 nights in a  gite or a mountain refuge. Each lodging is comfortable and clean, and will provide your breakfast, picnic lunch and a well-deserved dinner. The rooms consist of shared rooms of 4-5, unless you request 'option individual rooms' when booking. Showers are available throughout.
Various trekking options each day: The Mercantour National Park is ideal for trekking; the number of variants means there are so many new paths to explore. By opting to have your luggage transported by car, you are free to set off with nothing but yourselves and your picnic.
Each day on this circuit consists of alternative routes, which allow you to see more remote features and more rugged and austere scenery. The walking time per day varies between 4- 6 hours for the easy option and the ascent levels between 400 m – 600 m.or 6 – 8 hours, and the ascent levels between 800 m – 1100 m for the sportive option.
Climate: due to the proximity of the Mediterranean Sea, the weather is warm and sunny, ideal for summer hiking. .
Wolf are you here?
The Mercantour National Park:
A fragile area The Mercantour National Park was established in 1979 .
As an alpine park close to the Mediterranean, this surprisingly original geographical location gives rise to an immensely varied landscape : rocky areas, glacial cirques and valleys strewn with deep blue and brilliant green lakes, vast high alpine pastures, thick forests, narrow valleys, picturesque gorges and crystal clear rapids.
The Mercantour Alps: Sunshine and blue skies
Because of the nearby sea, alpine and Mediterranean influences converge to produce a mild and sunny climate, ideal for hiking in the height of summer.
Diverse and contrasted landscapes
-Lakes of turquoise nesting in lush alpine meadows scattered with gentian.
-Breathtaking passages through a canyon with rocks the colour of red wine.
-Woods of stern larch trees and stark mineral peaks.
Protected mountains
At altitudes ranging from 1200m to 3000m, chamois, marmots, eagles and wolves live undisturbed inside the boundaries of the Mercantour National Park.