Walking holidays in France with children:
Donkey and you
What is the secret to making unexplored hidden mountains accessible to a family? … a Donkey!
These affectionate animals have been part of our family for as long as we can remember.
Each one of them has their own individual personality, their own life, their own specific tastes (some are happy with a chunk of bread, whilst others have more acquired tastes, saucisson being a favourite!)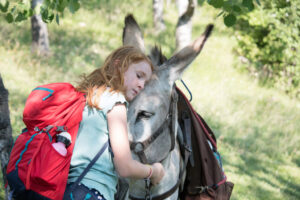 They love the company of humans, especially that of children, who they will encourage to keep on walking without sulking.
Trained masters in the art of comedy, they will suddenly become all downcast and upset, merely for attention and cuddles.
They are even capable of faking a limp in an attempt to earn some tabacco (gourmet donkey treat) and after they've got what they want, they will set off, fit as a fiddle, ready to tackle the tricky paths awaiting them!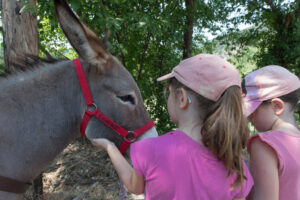 Génépi, Ouzo,Lilou, Gédéon, Isidore, Olympe, Kif-kif, Lupin, Libellule, Iznogud and their 40 odd friends fascinate children and adults alike.
Warning! You will be dealing with a skilled psychologist, an expert in the complexities of man, ready to take advantage of your weaknesses!
Donkey is an experienced drama-queen, quite capable of collapsing Cinderella-style if he sees you are devastated with remorse at the amount of clothing and cereal bars piled on his back, when in truth he's really not too .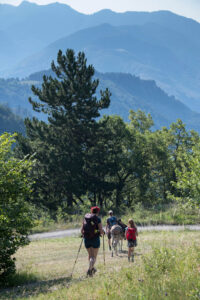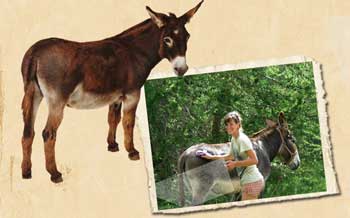 ITINERANCE
Villeplane
GUILLAUMES
FRANCE
Tél : 00 33 (0)4 93 05 56 01