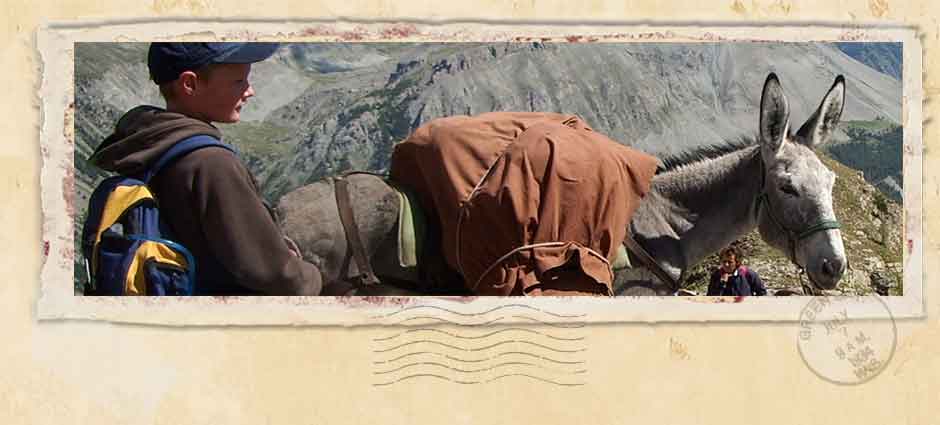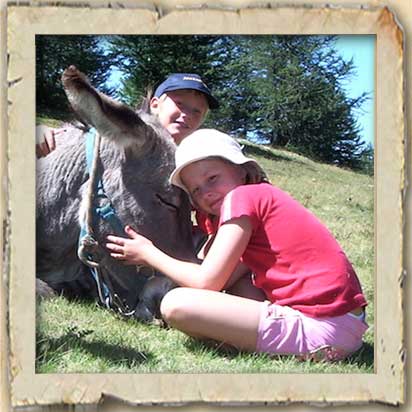 Walk with a donkey in Provence: Your testimonies
With a donkey through Provence, Southern Alps: May 2018
Dear Anita,
Many Thanks again to you and Guillaume and all our hosts for the efficiency and kindness of your organisation, and for giving us both a very special holiday. It was a wonderful experience, and one which we will always remember. We were delighted with Libellule's company and assistance ; she is a lovely character, and she seemed to enjoy the expedition (as well as the carrots, and a good roll at the end of the day's walk).
Obviously we were very early in the Season, and therefore the paths were not as well-trodden and more slippery than they would be later in the Summer. Our experience was that real walking-boots and a walking-pole were ABSOLUTELY ESSENTIAL. We honestly don't think we could have managed without . . . . Very Best Wishes and, again, Many Thanks (not least the Libellule !), John and Margaret Tyler.
Donkey tour with responsible travel reponsible holidays in france
1. What was the most memorable or exciting part of your holiday? The walking is fantastic and the donkey became a firm companion. We hardly met anyone on the trails. So different to walking in England.
2. What tips would you give other travellers booking this holiday? Take lots of layers. There was still snow at the top in June (though this was unseasonable).
3. Did you feel that your holiday benefited local people, reduced environmental impacts or supported conservation? Yes very much
4. Finally, how would you rate your holiday overall? It was fantastic. We loved it (even when it rained).
Finally, how would you rate your holiday overall?.
Donkey walking tour in the Southern French Alps via Responsible Travel
1. What was the most memorable or exciting part of your holiday?
To reach the mountain top the last day if the 7 hiking days 2. What tips would you give other travellers booking this
holiday? To keep the smartphone at home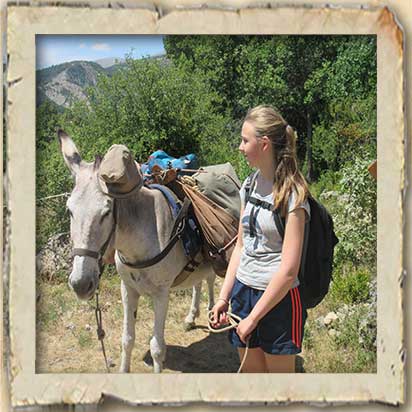 3. Did you feel that your holiday benefited local people, reduced environmental impacts or supported conservation? Yes, very much
4. Finally, how would you rate your holiday overall? I did the hick together with my daughter who is ten years and I think from this travel she could mire benefit for her life than from any other materialised consumerism such as buying stuff …
Finally, how would you rate your holiday overall? 5 *****
More testimonies about donkey walking tour in the southern french Alps
1. What was the most memorable or exciting part of your holiday?
Travelling with a Donkey as companion – a delightful character. We were early in the season so it was very quiet . . . . and the Alpine Flowers were wonderful.
Though it can vary from year to year, this meant the weather was variable (fine in the mornings, cloud gathered at lunchtime, thunderstorms by mid- afternoon). The mountain scenery was incredible. Very well-appointed accommodation and excellent French cuisine in the evenings. Everyone we met (hosts, locals, one or two other visitors) was absolutely delightful. But Donkey was highlight of the whole experience . . .
2. What tips would you give other travellers booking this holiday? Don't underestimate level of fitness required. My wife and I are in early 70s, used to walking/running and managed quite well, but it was NOT a doddle. Steep ascents and descents and really good trekking boots ESSENTIAL. Going might be easier in High Summer when paths really dry. Be careful to follow directions carefully ; we got lost once, and I'm sure we are not the first. Be prepared to ford small mountain streams (Donkey didn't seem to mind). Some experience with dealing with animals (and a supply of carrots as judicious rewards) is a great help. A good poncho excellent for wet weather !
3. Did you feel that your holiday benefited local people, reduced environmental impacts or supported conservation? This was an environmentally very low-impact holiday. the Family-run organisation was efficient from the word Go (quick response to email queries, etc.), very well organised on site (with welfare of donkeys given a very high priority). An excellent way to see some of the least-known alpine scenery of Europe and wonderful flowers at your own pace. Provided employment for local population, and allowed us to submerge ourselves in a fascinating area, enjoy glorious peace as well as athletic challenges – and practise our rather rusty French.
4. Finally, how would you rate your holiday overall? Absolutely brilliant.. It really provided us with a week to remember always. We thoroughly recommend it – but see tips above. Holiday is advertised as suitable for children 5 years +. personally I would think twice before taking pre-teen children. Happy to answer any further queries. Finally, how would you rate your holiday overall?
5 *****
ITINERANCE
Villeplane
GUILLAUMES
FRANCE
Tél : 00 33 (0)4 93 05 56 01